The FA Cup may be just the distraction West Ham needed. They may not be out the woods just yet but, after Jarrod Bowen continued his resurgence in front of goal, this third win in five games has certainly helped lift the sense of impending doom around the club as David Moyes's team booked a fifth-round tie away to his old club Manchester United.
Bowen, the two-goal hero against Everton as West Ham climbed out of the relegation zone, scored the first goal and made the second for Michail Antonio as the Premier League side ensured they did not slip on any passing fruit that Derby County, from League One, might have resembled.
West Ham can now head into their Premier League fixtures against Newcastle, Chelsea and Tottenham more optimistic in the hope that the worst may be behind them.
If that win over Everton looked like winning a last-chance saloon shoot-out, this victory should top up the confidence levels. Derby are left to focus on consolidating their playoff place as, defeated in 90 minutes for the first time in 20 games, they were far from disgraced by their visitors.
The pre-match draw offered dubious incentive for both sides. This is the fifth time in seven seasons that West Ham have been matched with Manchester United in a domestic cup competition while Derby's last foray into the fifth round of this competition was halted by the same opponents three years ago.
With relegation and promotion battles ahead, both managers could have been forgiven for resting more players than they did. But it was Bowen who helped West Ham capitalise on a sharp start by giving the top-flight team a 10th-minute lead.
Derby have been cruising in League One but the speed with which they found themselves harried by superior opponents seemed to surprise them. After Tom Barkhuizen was sent away down the inside-left channel in the opening seconds, only to delay his cross so that James Collins' attempted drive was blocked, West Ham took charge.
Antonio nicked the ball off Max Bird and sprinted goalwards only to shoot wide of the near post before Bowen dispossessed Nathaniel Mendez-Laing, sprinted directly at Derby's retreating backline, but allowed Joe Wildsmith to save his shot.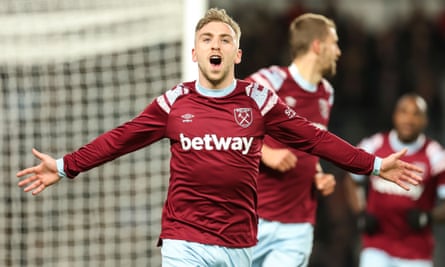 Jarrod Bowen celebrates opening the scoring for West Ham.
Photograph: Ryan Browne//Shutterstock
There are 32 rungs between these two teams and the gap was showing at this stage. The goal was preceded by a slick buildup before the much-castigated Tomas Soucek ran decisively onto a return pass from Antonio to get clear, wide in the six-yard area, and head the ball back over Craig Forsyth for Bowen to tap home from close range for his eighth goal of the season.
Derby played their way into the game without creating a clearcut opportunity. Their best move of the first half again came when Barkhuizen was freed down the left flank, this time by Forsyth's delicately lofted pass.
From his centre Collins, in for the injured David McGoldrick, decided fortune might favour the brave and tried his luck with a first-time left-footed volley. The shot flew wide but it offered Derby hope.
Sign up to Football Daily
Free daily newsletter
Kick off your evenings with the Guardian's take on the world of football
Privacy Notice: Newsletters may contain info about charities, online ads, and content funded by outside parties. For more information see our
Newsletters may contain info about charities, online ads, and content funded by outside parties. For more information see our Privacy Policy . We use Google reCaptcha to protect our website and the Google Privacy Policy and Terms of Service apply.
Within five minutes of the restart, however, West Ham had sealed the game. Derby looked susceptible to the counter-attack throughout.
When Bowen profited from an attempted clearance to scamper away down the right wing and cross, albeit via a deflection off Forsyth that lifted the ball over Curtis Davies, Antonio was waiting in the box to nod in his sixth goal of the season.
Everton are believed to be keen on acquiring Antonio and Ben Johnson by the transfer deadline but, with Gianluca Scamacca injured, the fact that David Moyes introduced Saïd Benrahma at centre forward when Antonio was withdrawn suggests the veteran striker is still needed for the rest of this season.
A year to the day since 8,000 Derby fans marched on Pride Park to show support for a club in administration and with their future uncertain, the team have built up another skin of resilience under Paul Warne's management. There is a unity about the club under David Clowes' directorship that bodes well.
They had extended their long unbeaten run by winning 2-1 at Port Vale last Tuesday, with two goals in the final three minutes, but this game represented a bridge too far. Still, nine points clear of seventh place in League One, they can head to Morecombe with their heads held high.