Published 01/24/2023, 6:40 AM EET
As the NBA trade deadline nears, multiple teams in both conferences and divisions are looking for that one key piece that will give them the edge over others. While others are considering hitting the reset button mid-season and starting their rebuild of the franchise from scratch, willing to trade away all their assets. Well, the Los Angeles Lakers are certainly not one of them as the front office is all in for LeBron James and his twilight years in the league. This, in turn, has led to the Lakers pulling off a massive trade, and no, not the ones that were rumored.
The Los Angeles Lakers were the one team this season that seemed to be linked to almost every team in terms of trade interests. The Indiana Pacers being the team that got linked with the most, the Chicago Bulls, and even the Golden State Warriors to name a few.
Lakers make an unexpected trade
ADVERTISEMENT
Article continues below this ad
The Los Angeles Lakers came to a trade agreement with the Washington Wizards which brought forward Rui Hachimura to L.A. In turn, the Lakers parted ways with Kendrick Nunn and three second-round picks.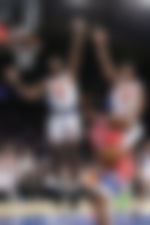 Jan 18, 2023; New York, New York, USA; Mandatory Credit: Wendell Cruz-USA TODAY Sports
ESPN Analyst and former teammate of LeBron James, Richard Jefferson, part of the 'NBA Today' crew, reacted to the Lakers bringing over Wizards forward Rui Hachimura, and how it will affect LeBron James and the team as the season goes on.
However, one thing that Jefferson did point out was the Lakers being shorthanded in draft picks. "If you don't want to give up those first rounds, your second round is the only one that you have a little bit of leverage with. So you give away three for them, and now you're limited in those assets," said Jefferson.
Jefferson also pointed out that this trade won't change their standings in the Western Conference. However, it will help them on the floor nonetheless, saying, "Is this going to move them from eight to six, I don't think so but it is a step in the right direction."
ADVERTISEMENT
Article continues below this ad
Will this trade help LeBron James and the Lakers?
Rui Hachimura was a highly touted rookie coming out of Japan in the 2019 NBA draft. Alas, the ninth-overall pick did not manage to live up to the expectations. Hachimura's points, shooting, and minutes per game average have only declined since he came into the league.
Watch This Story – Will the Lakers trade Russell Westbrook before the trade deadline?
ADVERTISEMENT
Article continues below this ad
So, this trade might just give Hachimura a fresh start, playing with veterans like LeBron James and Anthony Davis. Though the Lakers would've benefited the most if the front office had gone for a 3&D type of player. Someone who can make three-pointers with a high percentage and can play good defense.
This leads us to a crucial question. Will this trade help LeBron James and the Lakers? Let us know what you think in the comments section down below.