HBO's The Last of Us Episode 3 offers a devastating yet beautiful glimpse at Bill (Nick Offerman) and Frank's (Murray Bartlett) life together. Many fans (including us) are still in tears over the end of their story. As heartbreaking as it is to watch, though, The Last of Us Episode 1 did warn us something was coming.
[Spoiler alert: The following story contains spoilers for The Last of Us Episode 1 and 3 and The Last of Us game.]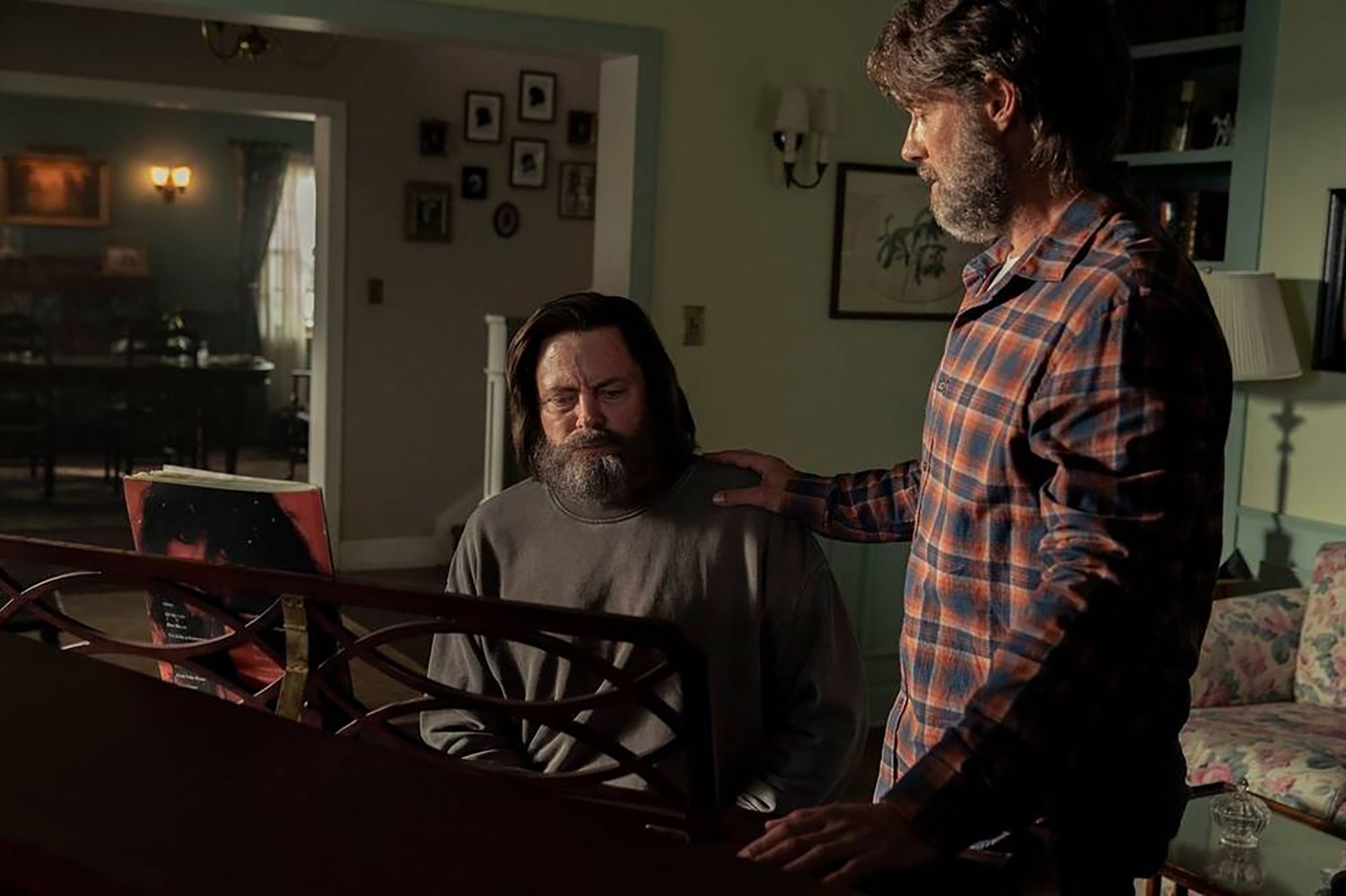 Nick Offerman as Bill and Murray Bartlett as Frank in 'The Last of Us' Episode 3 | Liane Hentscher/HBO
What happens to Frank and Bill in 'The Last of Us'?
The Last of Us Episode 3 shows Bill and Frank's life through a series of time jumps. The story begins in 2003, at the start of the Cordyceps fungus outbreak, when Bill hides in his bunker to avoid being evacuated from his town. He emerges to find that he has the whole place to himself. Bill spends the next few years building a compound with traps around the perimeter to keep out the infected and raiders.
One day, Bill finds Frank trapped in a hole outside the compound. He's not sick — just hungry from traveling. Bill invites Frank inside for dinner, and the two hit it off. They share a kiss and spend the night together after Bill serenades Frank on the piano.
The next few time jumps show Bill and Frank growing old together, with Bill narrowly surviving an attack from raiders. Unfortunately, Frank develops an unspecified illness. Bill takes care of him until Frank decides he wants one last good day together. The couple spends it by getting married and having another romantic meal. At the end of the night, Bill and Frank overdose on Frank's medications and die off-screen in their bedroom, presumably at peace in each other's arms.
'The Last of Us' Episode 1 closing scene foreshadowed their death
As fans may recall, in The Last of Us Episode 1, Ellie (Bella Ramsey) found Joel's (Pedro Pascal) The Billboard Book of Number One Hits. He used the book to decode secret messages from Bill and Frank. If a '60s song played on the radio, it meant there was no new stock available. A '70s song meant new stock came in. Ellie figured out that an '80s song typically meant there was trouble.
At the end of the episode, the radio sputtered to life and began to play Depeche Mode's "Never Let Me Down Again" from 1987. At the time, fans thought Bill and Frank were trying to signal trouble to Joel. However, episode 3 reveals a much sadder truth.
After Bill and Frank's death, Joel and Ellie visit the compound to get help on their journey. They find Bill's suicide note, rotting food on the table and music playing in Bill's bunker. Joel explains that music automatically plays on the radio if Bill doesn't "reset the countdown every few weeks." So, that Depeche Mode song indicated that something happened to Bill, making him unable to reset the playlist.
Episode 3 also gives a new meaning to "Never Let Me Down Again." Many fans thought its lyrics about taking a ride with your best friend symbolized the journey that Joel and Ellie were about to take together. However, it's also symbolic of Bill and Frank's life together. OK, we're officially crying again.
Do Bill and Frank die in 'The Last of Us' video game?
Long, long time. pic.twitter.com/h1e92sLsBp— The Last of Us (@TheLastofUsHBO) January 30, 2023
HBO's version of Bill and Frank's story is much warmer than The Last of Us video game. In fact, the game doesn't share much about Bill and Frank at all. It's implied that the two are romantic partners, but a secret letter from Frank to Bill indicates that Frank actually hated Bill the whole time. Additionally, Frank is already dead when players find him. Bill is alive, and he rescues Ellie and Joel from an infected attack.
In an interview with Entertainment Tonight, The Last of Us co-creator Craig Mazin revealed a good reason for deviating from the source material.
"I loved that there was this hint of a relationship, and I suggested that we show something else," the writer said. "I wanted to show what love looked like as the product of commitment. I wanted to show what it looked like to be middle-aged and to be in love. And I also wanted to show the passage of time and a conclusion that showed us both sides of what love is."
New episodes of The Last of Us drop on HBO and HBO Max every Sunday at 9 p.m. ET. Check out the full release schedule for more details.