Published 11/06/2022, 11:13 PM EST
Kevin Durant and the Brooklyn Nets are 4-6 so far this season. That is not the start the team was expecting. Furthermore, one of the team's stars is surrounded by controversies and missing games. And if that wasn't enough, the team recently decided to part ways with their head coach Steve Nash. Despite the Nets winning their last two games, it seems as if things might have taken a turn for the worse. 
ADVERTISEMENT
Article continues below this ad
The Brooklyn Nets managed to take down the Charlotte Hornets in their last matchup. Being short-handed with no Ben Simmons or Kyrie Irving, the Nets still managed to scrape by 98-94. 
ADVERTISEMENT
Article continues below this ad
The Hornets might just have an opening for Steve Nash
However, it seems as if Michael Jordan's Hornets might just end up getting the last laugh now. According to reports, Hornets HC Steve Clifford has said he's invited Steve Nash to come down to Charlotte to "spend a few days" with the team and give "his thoughts on things".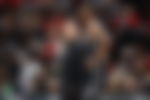 Nov 8, 2021; Chicago, Illinois, USA; Brooklyn Nets head coach Steve Nash talks with forward Kevin Durant (7) during the first half of an NBA game against the Chicago Bulls at United Center. Mandatory Credit: Kamil Krzaczynski-USA TODAY Sports
Kevin Durant had previously wanted Nash fired and out of the organization. Steve Nash was a two-time MVP during his time in the league. With a pass-first mentality, Nash managed to score a plethora of points along with racking up assists as well. 
So, for a former MVP to come into the Charlotte Hornets organization and give his take on things will likely only be good news for the team. Even though Hornets' up-and-coming star LaMelo Ball is out with an injury, Nash's guidance for the young guard will likely help him flourish even more. 
Since Nash played the point guard position, so he will undoubtedly have some great insights for players like Terry Rozier, LaMelo Ball, and James Bouknight. The Hornets are currently 3-7 for the start of this season. Even though the team has shown some promise, you can be sure that the front office would like the team to do better. 
Kevin Durant with contradictory statements
ADVERTISEMENT
Article continues below this ad
And as for Nash, Durant wanted the eight-time All-Star out since the start of the season. In fact, there was a time during the summer that Durant wanted out of the organization as well. But since then, has come to terms with the team. 
However, he did give the front office an ultimatum back then to choose between him or Steve Nash. And after Nash got fired, Durant was reportedly shocked by his departure. He interestingly mentioned how he liked working with Nash after he left. The decision to part ways between Steve Nash and the Brooklyn Nets was reportedly mutual. 
Watch This Story – Kevin Durant to the Celtics, Kyrie Irving to the Lakers, and other potential league-altering trades
ADVERTISEMENT
Article continues below this ad
But now that Nash has been invited to spend some time with the Hornets organization, it might not come as a surprise if he decides to join the coaching staff at Charlotte and guide the up-and-coming team for the future. 
Do you think Steve Nash could join up with the Charlotte Hornets? Let us know in the comments below.