TEXAS, United States — اضافة اعلان

"Had to be a straight hack," said Fulce, an All-American forward who would try to use his long arms to neutralize Butler's strength.

At Tyler Junior College, a leafy two-year school about 160km southeast of Dallas, Fulce was among the teammates who came to understand how seriously Butler treated the combative art of one-on-one basketball. It was the purest distillation of his competitive drive.

"If you ask him to play one-on-one and you're not really ready to play one-on-one with him, don't do it," Fulce said, "because it'll mess up your relationship with him."

Before he went to Marquette and then entered the NBA as a late first-round draft pick, before he famously eviscerated teammates at a practice in Minnesota and then fashioned the NBA's

"It was the first time", Butler said, "that someone actually took a chance on me."

By now, Butler has cemented his reputation as one of the league's best two-way players, a six-time All-Star with an eight-figure salary who has positioned Miami as a perennial title contender. In his spare time, he works as a global pitchman for a low-calorie beer and drinks expensive coffee.

Though the Heat have been uneven this season, Butler, 33, figures to have them in the mix again. He knows better than most that a strong finish is more important than a tough start.

At Tyler, there are reminders of the year he spent there. Outside the gym is the "Jimmy Butler Lobby," replete with a trophy case that includes photographs, magazine covers, his old jersey, and a box of Corn Flakes with his image on it.

But back when he arrived at the school in the summer of 2007, he seemed acutely aware of what was at stake: his future.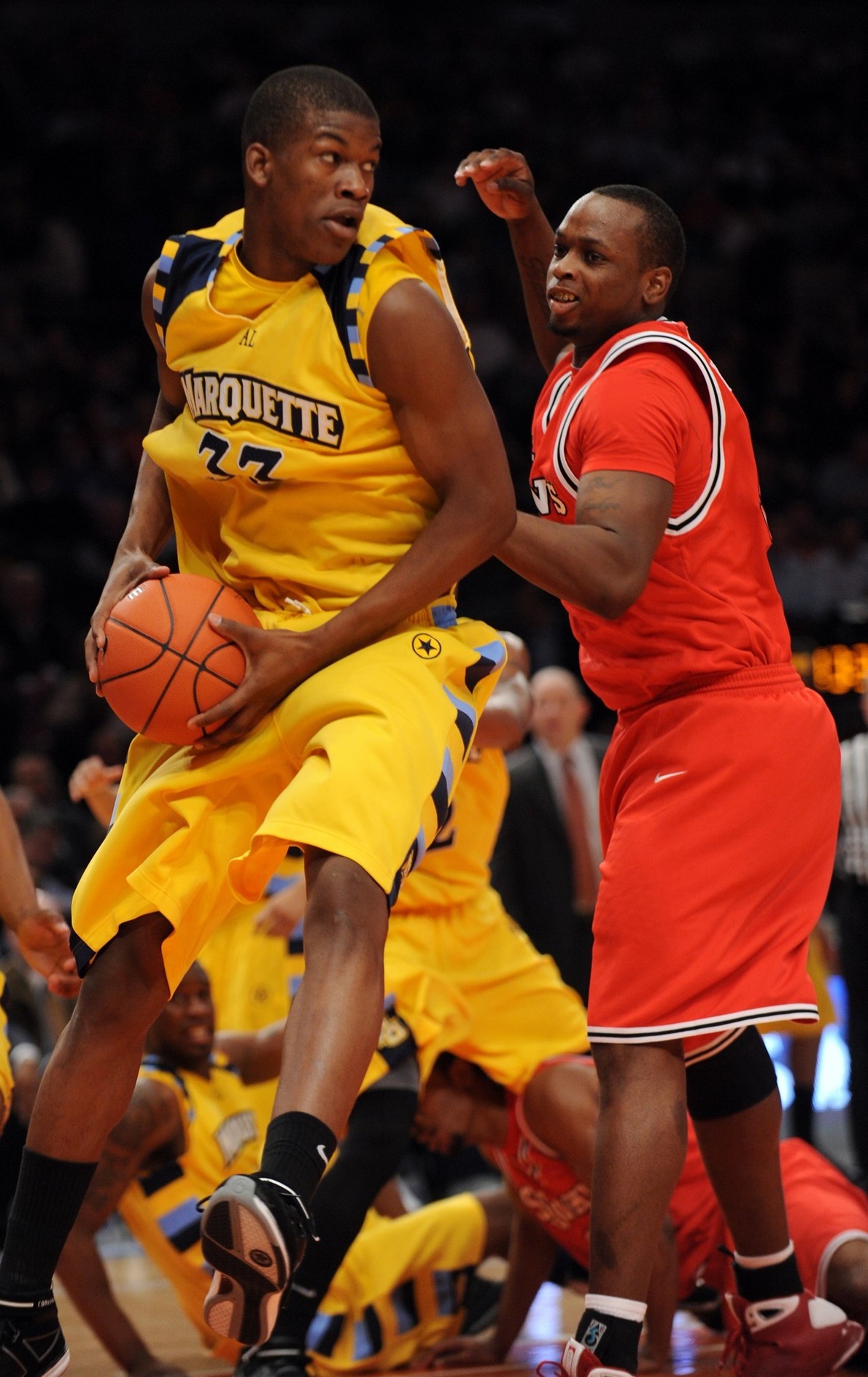 Marquette's Jimmy Butler grabs a rebound against St. John's at the Big East Tournament in New York on March 11, 2009.
As for his past? He could not go back. Even now, he has no interest in rehashing his childhood outside of Houston. On only a couple of occasions has he spoken about how his mother kicked him out of the house when he was 13, about how he survived by couch-surfing for several years before a friend's family took him in.
"I'm not personally going to talk about his business," Fulce said, "but if you take everything away from somebody and you have to learn what that feels like at a young age, that would drive anybody to be like, 'Yo, I'll never go back to where I was.' And a lot of people will never understand what that's like because they can't even imagine it."
Coming out of Tomball High School, Butler had a scholarship offer from Centenary, a small college in Louisiana that has since transitioned to Division III, and a partial offer from Quinnipiac. One afternoon, he got a phone call from Mike Marquis, the longtime coach at Tyler, who had heard about Butler from a Houston-area scout named Alan Branch.
"He thought Jimmy was a better player than had been reported," Marquis said. "So, we raced down and picked him up and brought him in for a visit. It didn't take long to realize he had something special about him, just the way he carried himself."
Fulce got the sense from Butler that he was determined to absorb everything he could from everyone around him. Each day was an opportunity to learn and improve. In the preseason, Marquis said, Butler would come to practice early and stay late so that he could spend hours — yes, hours — working on his footwork.
"All that pivoting," Marquis said, "which is the sort of stuff he uses nightly now."
Tyler had a terrific season behind Butler, Fulce, and Jamie Vanderbeken, a forward who would go on to play at Iowa State. Known as the "Three J's", they led the team to a 24–4 record ahead of a regional tournament game against Panola College, a team that Tyler defeated by 27 points the previous week.
Fulce heard rumblings during warmups that a scout from the San Antonio Spurs was in the building — it was an indication, he said, that he and his teammates were on the right track — and they put on a show. In a game that went to triple overtime, Butler scored 43 points and collected 10 rebounds in a 123–121 loss that ended Tyler's season.
After the season, Butler was weighing several Division I offers, including one from Kentucky. Fulce, who had already committed to Marquette, called Buzz Williams, the team's new coach, and urged him to sign Butler.
"If you don't take Jimmy, I'm not coming," Fulce recalled telling Williams.
A week later, Butler and Fulce made their way to a McDonald's near campus so that they could use the restaurant's fax machine. Butler fed his national letter of intent to attend Marquette into the machine.
"He really didn't know what was coming next," Fulce said.
Read more Sports
Jordan News
Jimmy Butler and Joe Fulce knew enough to find a basketball hoop that was a safe distance from anyone else who happened to be working out at Wagstaff Gymnasium. Sometimes, they would play to 11pm. Sometimes, the player with the ball would be permitted only one dribble. Sometimes, they would go for hours. The rules? Depended on the day. As for calling fouls?"Had to be a straight hack," said Fulce, an All-American forward who would try to use his long arms to neutralize Butler's strength.At Tyler Junior College, a leafy two-year school about 160km southeast of Dallas, Fulce was among the teammates who came to understand how seriously Butler treated the combative art of one-on-one basketball. It was the purest distillation of his competitive drive."If you ask him to play one-on-one and you're not really ready to play one-on-one with him, don't do it," Fulce said, "because it'll mess up your relationship with him."Before he went to Marquette and then entered the NBA as a late first-round draft pick, before he famously eviscerated teammates at a practice in Minnesota and then fashioned the NBA's COVID -era bubble into his personal stage with the Miami Heat, Butler spent one season at Tyler that set the foundation for everything that followed."It was the first time", Butler said, "that someone actually took a chance on me."By now, Butler has cemented his reputation as one of the league's best two-way players, a six-time All-Star with an eight-figure salary who has positioned Miami as a perennial title contender. In his spare time, he works as a global pitchman for a low-calorie beer and drinks expensive coffee.Though the Heat have been uneven this season, Butler, 33, figures to have them in the mix again. He knows better than most that a strong finish is more important than a tough start.At Tyler, there are reminders of the year he spent there. Outside the gym is the "Jimmy Butler Lobby," replete with a trophy case that includes photographs, magazine covers, his old jersey, and a box of Corn Flakes with his image on it.But back when he arrived at the school in the summer of 2007, he seemed acutely aware of what was at stake: his future.As for his past? He could not go back. Even now, he has no interest in rehashing his childhood outside of Houston. On only a couple of occasions has he spoken about how his mother kicked him out of the house when he was 13, about how he survived by couch-surfing for several years before a friend's family took him in."I'm not personally going to talk about his business," Fulce said, "but if you take everything away from somebody and you have to learn what that feels like at a young age, that would drive anybody to be like, 'Yo, I'll never go back to where I was.' And a lot of people will never understand what that's like because they can't even imagine it."Coming out of Tomball High School, Butler had a scholarship offer from Centenary, a small college in Louisiana that has since transitioned to Division III, and a partial offer from Quinnipiac. One afternoon, he got a phone call from Mike Marquis, the longtime coach at Tyler, who had heard about Butler from a Houston-area scout named Alan Branch."He thought Jimmy was a better player than had been reported," Marquis said. "So, we raced down and picked him up and brought him in for a visit. It didn't take long to realize he had something special about him, just the way he carried himself."Fulce got the sense from Butler that he was determined to absorb everything he could from everyone around him. Each day was an opportunity to learn and improve. In the preseason, Marquis said, Butler would come to practice early and stay late so that he could spend hours — yes, hours — working on his footwork."All that pivoting," Marquis said, "which is the sort of stuff he uses nightly now."Tyler had a terrific season behind Butler, Fulce, and Jamie Vanderbeken, a forward who would go on to play at Iowa State. Known as the "Three J's", they led the team to a 24–4 record ahead of a regional tournament game against Panola College, a team that Tyler defeated by 27 points the previous week.Fulce heard rumblings during warmups that a scout from the San Antonio Spurs was in the building — it was an indication, he said, that he and his teammates were on the right track — and they put on a show. In a game that went to triple overtime, Butler scored 43 points and collected 10 rebounds in a 123–121 loss that ended Tyler's season.After the season, Butler was weighing several Division I offers, including one from Kentucky. Fulce, who had already committed to Marquette, called Buzz Williams, the team's new coach, and urged him to sign Butler."If you don't take Jimmy, I'm not coming," Fulce recalled telling Williams.A week later, Butler and Fulce made their way to a McDonald's near campus so that they could use the restaurant's fax machine. Butler fed his national letter of intent to attend Marquette into the machine."He really didn't know what was coming next," Fulce said.Jordan News